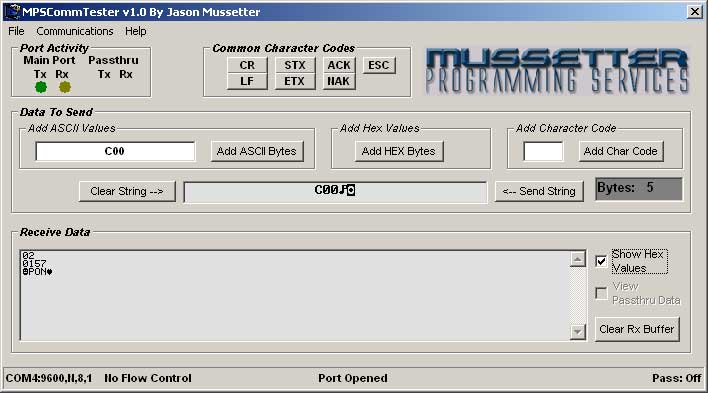 (Main Window Interface)
You can see that the interface is clean and simple. Under the "Data To Send" group of controls, you simply build your command string using any combination of ASCII, Hex, or Character Codes. Once the command is built and complete, the 'Send String' button will send the command.
The Received data is shown in the 'Receive Data' window.
The 'Port Activity' shows Transmit and Receive activity for the Main Port and the Passthru (Bridged) port.
The status bar always lets you know the status of the com port(s), including what com port your using, baud rate info, and whether the ports are opened or closed.


This window shows the Received Com data in Hex bytes so low level analysis can be made (Hyperterminal cannot do this!)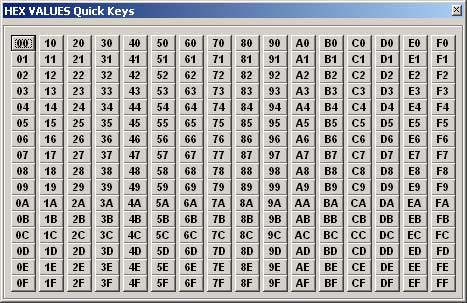 This window let's you quickly key in multiple hex bytes for the entire ASCII range while building command strings. (Hyperterminal cannot do this either!)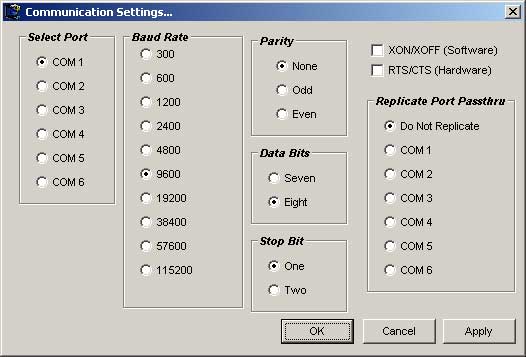 The communication Settings window is straight forward to allow you to easily setup all main settings of an RS-232 connection using most major baud rates and flow control options.
To use Bridge Mode, simply setup the main com port for the first com port, and then under 'Replicate Port Passthru' section, select the second com port you wish to use. Once these ports are opened, data between the two ports will be seamlessly bridged, while allowing the user to view data simultaneously from both ports. (Hyperterminal cannot do this!)